The best laid plans of a bracing walk through the wilds of Scotland with John were overthrown by the weather, and so we spent a great few hours in the cosy surrounds of the elegant lounge room at the Bridge of Orchy Hotel (in the west central Highlands of Argyll).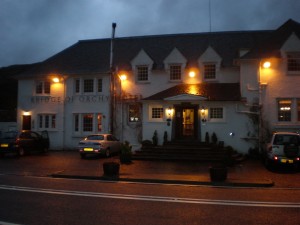 We chatted our way through most of the ills facing education today, planned and plotted how to fix the world and made our way back to what we were all up to and planning for the next year or so.
In The World According to Three Educators by a Fire, this is what we came up with:
Know your goals as you set out.
Take a steady approach, but always with your goals in mind.
Be prepared for serendipitous events, embrace them, use them and learn from them.
Allow students to lead their learning – support, encourage and celebrate learning as it happens.
Need to backward plan at times to enable a more open and exploratory type of learning to take place.
Thanks John, with your knowledge and understanding of students, learning and ICT I know you will continue to make a positive impact on learning in North Lanarkshire schools.