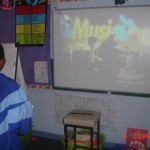 Literacy is my home, my comfort zone: I know what to do and what to expect.
So I've been a bit uncomfortable for the past few weeks, as our wiiMusic unit develops and grows.
Enabling the students to discover, explore and make connections with what they know and are familiar with about music and what they are learning about music through playing with the wiiMusic game, is a vital part of the learning cycle.
We have been talking our way through the game, the concepts and the terminology, investigating ideas and thoughts more fully through art as well.
We've written some informational texts, but I have been uneasy and at a bit of a loose end and I think it's because I haven't been able to harness the fun and excitement of the wiiMusic game into the literacy learning of the class.
I have tried to placate myself with thoughts that my students are learning about music – the language, the sounds, the instruments etc – but I was a little apprehensive about the lack of meaningful literacy moments that I could take advantage of.
I LOVE creating and crafting texts with my students: of playing around with writing so that it connects to readers and says exactly what you want it to say – but the opportunity had not arisen ……. Until today!
Today we shared ideas –
We built on each others words,
We explored vocab together,
We searched for the appropriate phrases,
We put images into words.
We created together!
This class is different to the classes I've had over the last couple of years: as a group they are much more reserved, they are less confident in themselves, there are fewer risk takers, there are more early phase ESL students in the group, and as a group they are less academically engaged in school.
So the strategies I used
⇒ were modified,
⇒ the positive reinforcement more frequent and specific,
⇒ the scaffolding was greater,
⇒ the re-phrasing and modeling more explicit, and
⇒ thinking time was more individual rather than shared
But the results were astounding!
Once the initial shyness was overcome there was much clapping and supporting of the efforts of all!
A shared purpose.
A shared pride.
A shared success.
Writing rocks!