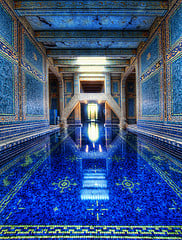 I will be using a Visible Thinking routine called Connect, Extend, Challenge to scaffold my reflection.
CONNECT
How were the ideas and information presented in INF506 connected to what you already knew?
I was able to connect straight into INF506 as I had a working knowledge of many of the web2.0 tools that were mentioned in Modules 1 and 2. I had enjoyed using web2.0 to grow a global network of learners as a classroom teacher and blogger. I used social networks to ask for and receive help, ideas, professional development and support as I learned alongside my students the benefits, responsibilities and joys in establishing global networks for learning.
I have always believed that school and learning is all about relationships, and I could connect with the idea that social networking is all about relationships too – relationships with customers, with colleagues, with information and with services. According to Mott (2012) it's "the relationships you build, the ideas you share and the purpose and passion you bring" but I still needed to learn how to fully develop these relationships from an Information Professional viewpoint, but I knew that relationships were at the heart of providing essential services on behalf of Belmore South Public School (BSPS) library.
EXTEND
What new ideas did you get from INF506 that extended or pushed your thinking in new directions?
The idea that connecting with users was much more than a one way street, that information, opinions, viewpoints and ideas came in as well as went out from the library and its online presence extended my thinking around the use of social media in my library. That together students, staff and school could build a learning place that brings in the combined knowledge and interests of participants as well as sending out new knowledge and interests made me sit up and think carefully about the ways I had been using my library blog. In an attempt to move my established classroom blog to a Library blog, I was simply providing content about what classes had been doing. Schrier (2011) warns against using social media merely to promote content and suggests that establishing trusting relationships with users should be the priority or purpose to using social media.
Schrier goes on to list five principles to use to plan for effective social media use: listening, participation, transparency, policy and planning.  I found these principles to be a useful list to start to think more deeply about the reasons to use social media, the people to connect with, the multiple ways to link authentically with customers, the need for explicit policies and planning for an integrated, thoughtful and focused move into social media use. The simple principles enabled me to start linking the (so far) disparate parts of social media into a useful whole.
My thinking and learning as a social networker was also extended by the many varied examples of libraries already using social media as integral components of their work. In the course modules example after example was given, showing ways in which blogs, wikis, Facebook, podcasting, and Twitter were being used to inform, educate, answer and entertain library users. I found this exciting and at times overwhelming as I realized that social media and social networking, whilst seen as still quite innovative and new in schools, is embraced as the norm outside of school.
To have models of practice available as demonstrations to scaffold my learning regarding the uses of social networking within the library  disrupted my current knowledge and forced me to take on board the fact that I still did not have a deep understanding of the principles and processes that a successful librarian2.0 needed. I had been quite comfortable using web2.0 tools and apps in my classroom, but I would definitely need to step up to live up to Librarian2.0!
CHALLENGE
What is still challenging or confusing for you to get your mind around? What questions, wonderings or puzzles do you now have?
I realize that I have consistently seen the role of the library and the Teacher Librarian as one of providing services to students; neglecting to focus on the responsibility I have to the staff and school and providing for their needs as well. The challenge for me is to position the library at the centre of the learning that happens at BSPS; to move it from its current irrelevance to that of a partner in the learning and information needs of the school and staff (as well as the students).
I need to meet staff where they are, to demonstrate my knowledge and understanding of social media to make our school library visible and important to the functioning of the school. I need to position myself, in my use of social media and social networks, to be able to become a librarian2.0 to fully support and enhance the learning programmes offered by my school and staff.
This session I have learnt a lot about social media, but I have learnt more about myself as a learner and a social networker and Information Professional. I have some way to go but am confident that I am developing the skills and strategies I need to get there 🙂 .
References:
Mott, E. (2012). 7 tips to take social to the next level. In iMedia Connection. Retrieved from http://www.imediaconnection.com/content/31346.asp
Schrier, R.A. (2011). Digital librarianship & social media: The digital library as conversation facilitator, D-Lib Magazine, 17(7/8) July/August 2011. Retrieved from http://dlib.org/dlib/july11/schrier/07schrier.html