My class has blogged with students from Carronshore Primary School for over two years now – swapping comments and working together on a wiki about Australia, so it was very exciting to visit the school and say "Hello".
We met Margaret (who was the teacher I blogged with – now on secondment to the local Falkirk Council ICT Team) who led us on a tour through the school to meet students and staff.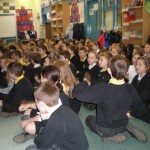 We had the pleasure of hearing the P4 & 5s sing for us – definitely the best singers in the school! The artwork along the walls and on display boards was terrific, it really showed us the subjects and themes studied in schools in Scotland. We learnt about WALT and WILF (although this caused some debate in the Staffroom about the actual meaning of WALT and WILF) – if anyone can help me out on what each one stands for please do!
And then we made our way to P5LW room where we were faced with a classroom full of eager little people armed with questions for us to answer. The students had devised questions for us – some were about Australia and some were about blogging. It was great fun to try and answer the students, although our accents seemed to baffle some of the students.
Thanks Cassie, for preparing your class so thoroughly for our visit 🙂