My Library is a big sunlit space full of possibility and promise – full of students playing, exploring, finding out and testing what they already know. It is an active place: people moving around, checking on how friends are working, sharing ideas, making things, drawing, talking, filming and thinking about what to do next.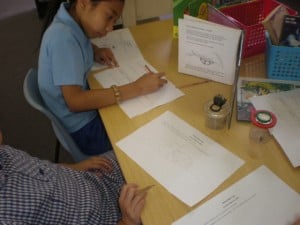 It is a
place of challenges and of potential, a place to come to and see what new things you can add to what you already know, what new things you can make to show your learning, what new things you can
create using your imagination and an iPad or cardboard and textas.
The space itself is old-fashioned; you would recognize it immediately as a Library from your past. Yet it is also a modern place – new ways of learning, through doing and showing and sharing and thin
king; new ways of finding out – through Google and You Tube and Pinterest and Oliver; new ways of sharing – through blogs and websites and weeblies and smores; and new ways to read –
through paper books and websites and e-books and apps. So much of what is new is invisible when you are physically in the Library – yet it is there to read and share and comment on and belong to.
Perhaps because you can't see it you don't know it's there. But you belong to the library and you know – you see the blog, you share your thoughts, you look at your photos, you find your friend's work, you find a book, you click a link, you sea
rch a question, you post your video, you watch a You Tube clip, you comment, you interact, you learn. When you belong to your library you know what it does, what it can do and what it might do for you.
Because we belong in my Library – the students who know what they like to do, the students who are at a loose end, the students who want to share their Lego and the students who want to share their minecraft creations, the students who are readers and the students who are learning to read, the students who look at the pictures and the students who are writing and creating stories themse
lves. They all belong – there is a place for them all in my Library.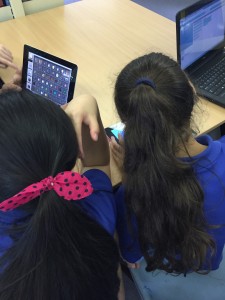 We build this library together – when you ask "Do you have…?". "Can we …?", "Why don't we …?", "How about getting some ….?", "Are we allowed to …?", "I need to …" it opens possibilities and allows ideas to flourish and opens up newer ideas and things to find out about. Together we make our own way, making use of what we have, imagining what we might do next and hoping for better and more interesting and more wonderful.
I love my Library and I will miss it.